From Corporate to Community Blog Series - Part 2: Community Train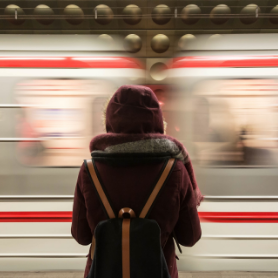 While I was at Corporate, every turn I took towards advancement was a trial. When you come from a place where you once loved your job and suddenly you're thrown into a space where everything is in constant flux, the need for stability is paramount.
Although agility was one of my key strengths, there was only so much change I could endure. With being constantly told you can do better, I was up for the challenge, but as I mentioned in Part 1 of my blog series, I was being haunted by the 'why.'
And the "who"…
With no work-life balance in place, my health was slowly declining and the ambition to be the best in my field was disappearing. I had trudged through blood, sweat and tears at this point.
In a state of unhappiness, I played the victim and tried to find a scapegoat for my misery. Deep down, I knew better.
After months of questioning my purpose in life and asking 'why me,' I sought guidance and slowly grasped 'why not me?'
I taught my three children, now young adult women, to look at those less fortunate to realize how truly blessed they were.
Essentially, I was not practicing what I preached. I took for granted what I already had. I only focused on one thing - a failing career which took a toll on my health - leaving me bitter and resentful.
How did I turn it around?
One word: Gratitude.
My thoughts began to focus on what I had rather than lack thereof. I heeded my own words, delved deeper into their true meaning and began to write.
There is always a story to tell. Hence, I began a new chapter. In fact, one in an entirely new book.
I wrote a series of blogs about the concept of arranged marriage, which has now become the backbone of my first fiction novel. And I knew if I could help just one woman, I was making a difference in the world, even if it was a drop in the ocean.
Then I started thinking. I need to make waves.
What if I could channel these feelings of gratitude?
What if I could write to help others?
What if my marketing background could be used to service the community?
The cause became clearer as I pondered, 'why not me?'
That's when I reinvented the concept of the 'corporate ladder' into the 'community train.' I wasn't going to move up. I was going to surge forward.
I soon began searching for the right platform to get on and find the ones who needed a voice: by giving them a voice.
I remember my dreaded, monthly commute downtown. Waking up extra early, getting on a crowded train, reviewing emails, lining up meetings and pretty much ignoring the people I travelled with. I got off into the vault of the city and was tossed into a steady stream of workers, spilling out into the streets, being navigated into their offices. Getting to and from work was automated, with my working time lost in a flurry of calls and meetings, which no longer held any meaning to me.
I envisioned the community train travelling in and out of the new mountain. Requiring me to meet my fellow travellers, acknowledge and recognize their existence, and help them through their life journey.
The Forgotten Ones.
They had robust lives. They were contributing members of society. And their lives took a turn at some point.
Change of circumstance or change in health--a life turned upside down without support.
It could be someone in your family, a loved one, a close friend. They once thrived. And now due to their new-found situation, they are set aside, lost in a less than perfect system.
They are living hand to mouth, under bridges, in makeshift homes made of cardboard boxes, sleeping on one couch to another or in shelters without adequate provisions.
Unrooted. Unwanted. Unheard.
Without the basic necessities that should be a human right for everyone: food, shelter, medicine—no matter their age, gender, ethnicity or social status.
Yet here they are, shunned by society, disregarded as 'troublemakers' and labelled as 'crazy.'
I started looking everyone in the eye. Past the mental illness, past the addictions, past the unkempt appearance. I let go of my predispositions, judgement and ventured to stare deep into their soul.
At every stop, I made a connection. A new place, a new person, a new need. I soon realized what a growing problem this was – homelessness and mental health. In every region, in every city.
And I realized what was part of that solution: SupportiveLiving.ca
This fueled my determination to continue on my train ride, get off at every stop, meet every person, acknowledge their plight and suffering, and as a result, write their story.
I disembark right now, but only for a moment. I will explain more in Part 3 – The Lesson I Learned.
#housing #mentalhealth #supportiveliving #transformation
Written by Shama Chaudhry, Director of Communications, SupportiveLiving.ca
You can access the audio version of this blog here.