From Corporate to Community Blog Series - Part 5: The Crossroad to Connection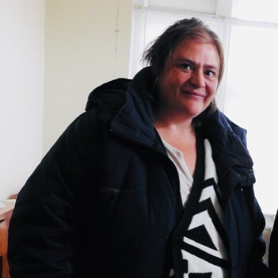 Barb M at Walnut Manor
Many times I encountered a crossroad in my life. I would take the wrong path because I used my brain instead of relying on my heart or instincts. Perhaps it was derived from childhood beliefs to think more and feel less.
Over-thinking and constant analysis led to paralysis. I went down the path of least resistance for the sake of comfort. Doing what was familiar because I knew what to expect and having the reassurance of being able to mitigate the risks. As a result, I stayed in my corporate position for too many years.
But remaining in the realm of the status quo did not lead to happiness. There was no change to my dreary existence. There was no action towards making any change.
Was I lazy? No. Was I less determined than everyone else? No. Was I fearful?
Yes.
It's amazing how fear paralyzes us. Every time an opportunity knocked at my door, I stood on the other side, scared of the unknown. And unsure if allowing something new to enter my life would lead to the change I so much wanted.
After a two year hiatus from life (I call it), opportunity knocked on my door. Instead of hesitating with my hand precariously on the door handle, this time, I opened it wide and let it in. This time, I let my heart do the thinking.
I did not know what to expect when I set out one morning to meet the staff and residents at Walnut Manor, Beatrice Manor, Humberstone Manor and Lakeside Terrace Supportive Living Residences.
This path would lead me to new connections …and a new mindset.
Walnut Manor Supportive Living Residence
I walked through the red door at Walnut Manor. Nestled in a quiet neighborhood in St. Thomas, driving up, I was struck by the stately appearance of the home on acres of green land that was surrounded by mature trees. Everything around the home was thriving. And soon I learned, so were the inhabitants.
The first person who met me in the hallway was my new friend Barb. Smiling from ear to ear, with rosy cheeks and a friendly handshake, I surprised her by my visit. I searched her face and our eyes met. Instantly, I connected to that familiar energy I felt over the phone a month earlier.
I asked to see her room and she introduced me to her newest roommate, Bonnie who was housed there only the month before. Barb explained that they had become fast friends. I learned previously that with every admission to a SL residence, a resident's background, circumstances, medical diagnosis and social history were carefully assessed before placing them into a specific residence and room for a seamless transition.
Bonnie was eager to tell me how lucky she was to room with Barb after experiencing a rough time in the hospital. Barb chimed in, adding that she had bought a Tim Horton's donut and hid a $10 bill inside the bag for her birthday, unbeknownst to Bonnie. Not aware to the extent of Barb's generosity, she ate the donut and threw out the bag! Exasperated, Barb announced she was lucky to have retrieved it from the garbage, just in time, with the $10 still inside! She smiled shyly when I commented on her kindness. "I just wanted to welcome and make her feel comfortable."
I was a witness to many other alliances between the residents. They would share their cigarettes if someone did not have one or go out together for a coffee. The support from the staff was evident as well. One of the home operators commended one resident after he came up with the idea to store his cigarettes in his glasses case so they didn't break.
As I toured the home, I met other residents I had spoken to over the phone. The excitement of meeting them was mutual. Each one was busy in their daily routine, coming and going as they pleased but making the effort to stop what they were doing to speak with me and take pictures together. Some sat outside in the peace and solitude of the yard that backed onto a beautiful ravine.
I soon realized the common thread that connected us all: residents, staff and even me – the need for personal interaction.
As I left, I said goodbye to Barb and she followed me out with sad eyes. "I'll come back and visit," I reassured her and the same wide smile she had met me with, reappeared. Right then I knew what I needed to do.
Share. Their. Stories.
#housing #mentalhealth #supportiveliving #transformation
Written by Shama Chaudhry, Director of Communications, SupportiveLiving.ca
You can access the audio version of this blog.