Going above and beyond!
SupportiveLiving.ca Client Relations Manager receives the 2019 CEO Award of Excellence
Patrick Pinnoy (left) receives CEO Award of Excellence by Vishal Chityal, CEO and Founder of SupportiveLiving.ca
On January 2, Patrick Pinnoy, Manager of Sales and Client Relations at SupportiveLiving.ca, was awarded the 2019 CEO Award of Excellence. The prestigious award was bestowed upon him at SupportiveLiving's headquarters in Burlington.
Pinnoy, who has been with the company for 6 years, was recognized for outstanding achievement in 2019. "I was absolutely surprised. It's not just for me but the entire company. SupportiveLiving provides an amazing service to the community and its partners," he commented. However, this should come as no surprise to the many clients and residents he serves.
Their testimonials prove his commitment and dedication when it comes to placing individuals with complex needs into the right SL.ca community.
Christmas Cheer at New Beginnings Residence
Trudy Marchand, Manager, New Beginnings and Vishal Chityal, CEO and Founder, SupportiveLiving.ca
On December 12, SupportiveLiving.ca was 'in the house' at New Beginnings in St. Thomas Ontario, to spread some Christmas cheer! The team was invited to the party by residence owner Sandra Ferguson and hosted by New Beginning's manager, Trudy Marchand.
SL Management came bearing gifts of blankets, pajamas, socks and games for each of their 25 residents.
There were lots of smiles, food and well-wishes from the staff and residents. "We not only make it a point to support our own residents but those of other housing providers within the community who share the same goal – providing stable, safe and high quality homes and support services to our vulnerable population," Vishal Chityal, CEO of SupportiveLiving.ca commented.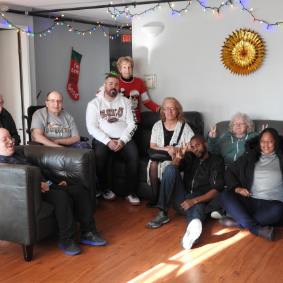 Patrick Pinnoy, SL.ca's Manager of Client Relations, and New Beginnings residents
We would like to thank the management and staff at New Beginnings Residence for allowing us to be a part of their annual festivities! Keep up the excellent work in the St. Thomas community!
SL IN THE NEWS
SupportiveLiving.ca wins National Enablement Award
SupportiveLiving.ca is proud to announce that they are the recipient of a National Enablement Award. Canadian over 50's Housing Awards bestowed the honour upon SupportiveLiving.ca in a ceremony that took place in Mississauga, Ontario on Dec 10, 2019.
SupportiveLiving.ca was named "The Most Outstanding Supportive Services Management Team in Canada."
What is SupportiveLiving.ca?
Watch our explainer video to learn more!